---
---
Top Page

Introduction Examples
Introduction Examples
Introduction Examples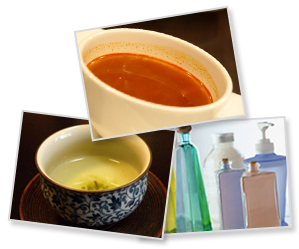 Shichimi togarashi (one of the ingredients)
Ingredient of curry power
Herbal medicine: Medicinal cooking, distilled liquor with herbal medicine, medicinal soup, etc.
Seasoning for pickles
Health tea
Seasoning for Chinese cooking: Chimpi is particularly suited for meat, such as chicken, pork, and beef. It is often used in meat dishes.
Tangerine flavored rice cake, Tangerine flavored rice
Chimpi are used in various foods.
As feed stuff:Chimpi has been often used for feedstuff in order to improve the quality of meat in respect to bio-regulation functional ingredients and tastes. (Introduction of Branding strategy)
As a fertilizer: Some customers utilize chimpi as a fertilizer.
Specifically, it is used for tomatoes grown outdoors. It is reported that chimpi strengthens tomatoes against diseases and increases the sweetness.
We also recommend it as a way of soil improvement.
Chimpi is good as a bath agent or a detergent, too.
---